5 Common Myths About Hair Transplants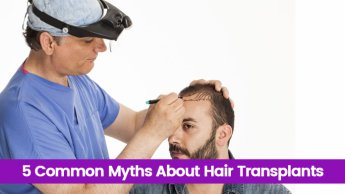 When it comes to ageing, it takes a different toll from men and women. While women worry about their wrinkles and skin, men are just worried about keeping the hair on their head intact. Baldness is one of the most common problems faced by men all over the world. There are many reasons for this result, it can be either lack of nutrients, age or just your genes coming back to haunt you. Well, thanks to the modern marvels of science, you can get those hairs you lost and said your goodbyes to.
Hair transplant is an effective and proven method to restore your lost hair and your lost confidence. From Indian opener Virender Sehwag to English football star Wayne Rooney, many have lost and found their hairs, thanks to hair restoration. But well you think about getting the process yourself, you will probably hear about a number of myths and rumour about it which make you unsure.
So let's debunk those common myths and tell you the truth.
Hair Transplant Cost Too Much

Well, the cost can be a relative term when you think about the long-term benefits of Hair Restoration. Getting your hairs implants can change your life for good and you can think of the cost as an investment.

Hair Transplants Are Too Easy To Recognize
Now, this myth may have been true few years back but now with new procedures and latest technologies involved with hair regrowth, it's harder than ever to distinguish

normal hair from transplants

.
Hair Transplants Are Temporary

Again, NOT TRUE. Hair Transplants can very well last life long. With the latest procedures, it's easy to retain hair implants for a very very long time.

Hair Transplants Are Only For Men

While it's true then the procedure is mostly utilized by men, it's not limited only to men. Both male and female can face baldness, while the baldness pattern in men and women are quite different, hair transplants can be used by anyone.

Hair Transplants Gives Immediate Results

The hair implants which are used to restart the flow of blood to the roots will fall off in 20-25 days. After the blood supply to the scalps is back the roots will start to grow in about 2 months and the complete hair regrowth can take up to 9 months to a year.
So that's 5 most common myths related to and they are in no way true. There are new and improved procedures like botox for hair, hair implants which helps your hairs to grow back.
Published on
September 17, 2018
By
Look Young Clinic


Categories: