Is Eyebrow Tinting Safe – Things You Need to Know About Microblading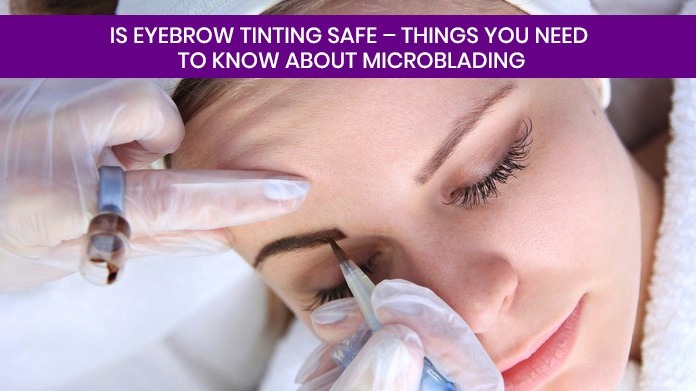 Tinting your eyebrows is one of the most low maintenance methods to make your eyebrows fuller. Now the question arises regarding the safety of the process. You may have seen a thousand of Instagram post about permanent eyebrow tint in which people tell you about DIY kits to do it and people flaunting their new permanent eyebrows.
Well, to talk about the safety, the process is relatively safe and easy to have. The hype around this permanent makeup procedure is due to the fact that it's the most low maintenance way to make your eyebrows appear fuller and more beautiful without daily makeup.
Things You Need To Know About Microblading
Microblading is a restorative inking procedure that fills in thin eyebrow zones to influence them to look more full. Unlike a customary tattoo, which is, in fact, permanent, the shading from microblading may keep going for up to 3 years. This is on the grounds that microblading utilizes distinctive tools and a lesser amount of color pigment.
Basically, in case of eyebrow microblading, an esthetician uses a very thin blade to apply hair like color pigment to cover the eyebrow portion. The color will fade with time and regular touch-ups will be required to keep the desired look. Immediately after the procedure, the eyebrows will look darker and fuller.
Like all the microblading and tattooing procedure, this one also has a few risks involved which can be minimized with proper research and knowledge.
The risks involved with the procedure and how can you minimize the risk with just a little research and awareness.
Allergic Reaction

The choice of color can play a very important role if you are allergic to something. Just ask all the right questions and get an assurance that the ink used is perfectly safe for you.

Infection

In the procedure, microblades are used to inject a substance into your skin, so there is always a risk if the blade is not sterilized, so pay close attention to these details to avoid future problem.

Choice of Technician

Do proper research about the past work and success of the doctor you trusted to operate on you. If the microblading process goes wrong, it's not easy to cover it up. So skills of your esthetician are crucial.
Published on
September 24, 2018
By
Look Young Clinic


Categories: