Permanent Eyeliner – Perfect Eyeliner Everyday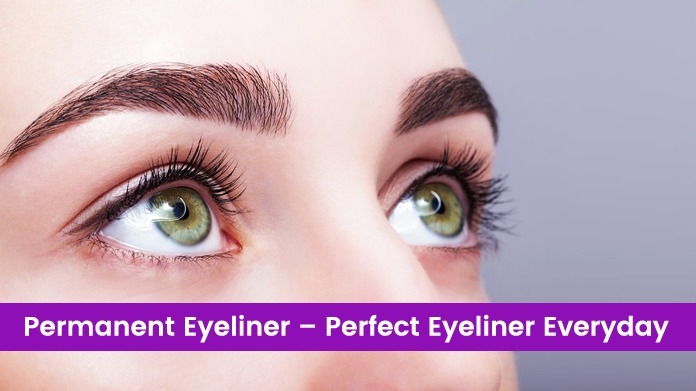 Who wouldn't love to wake up with perfect eyebrows every morning? Eyebrows are a very important parameter to define our facial feature and beauty. Wouldn't it be amazing if you don't have to spend so much time in getting that perfect look? Well, we have a perfect solution for you which is certified and proven to give you perfect eyebrows and eyelashes.
Permanent Eyeliner is an aesthetic speciality which enhances, improves and upgrade your characteristical features. This strategy is therapeutically proven and the shades utilized are very safe. This state of the art procedure fills the color into the dermal layer in an exceptionally normal way with quill contact strokes giving a perfectly natural shade.
Advantages of Permanent Eyeliner
Doing your eyebrows from scratch will take you around 10-15 mins and still, you won't be able to get a perfect look every single time. But with permanent eyeliner tattoo, you will get a permanent and perfect looking eyebrow and eyelashes. No more rigorous makeup to get a perfect look, now you will be able to just wake up with perfect eyebrows.
A bit about the process
Getting a permanent eyeliner tattoo is a relatively simple process, you will have to choose one of the two available instruments to get the tattoo. You can either go for a cosmetic pen, which is a slower, quieter and more delicate method or you can go for a tattoo gun which will be quicker and shakier.
The first stroke will feel like a sting but after that, it will barely feel anything as the numbing cream will get to affect. The micropigmentation process will give you a solid shade and if that's what are you looking for then alright. But if you want to experiment with thicker or thinner eyebrow looks then you should give it a second thought.
Before and After Effects
You will get to take before and after shots of your eyes to see the difference but apart from the look, there will be a few more changes in the before and after. The process doesn't have any severe side effects and you will only feel a bit of dryness in the eyes and increased sensitivity to light for few hours after that you will be back to normal flaunting your new perfect eyebrows.
The eyeliner will definitely look good. The permanent makeup procedures are very economical now due to new techniques and equipment. Getting permanent lip colour and permanent eyeliner tattoo cost will definitely be worth the expenditure and as it is a permanent process, it an investment by you on your looks, a way to pamper up your looks.
Published on
August 24, 2018
By
Look Young Clinic


Categories: