Permanent Hair Removing Treatment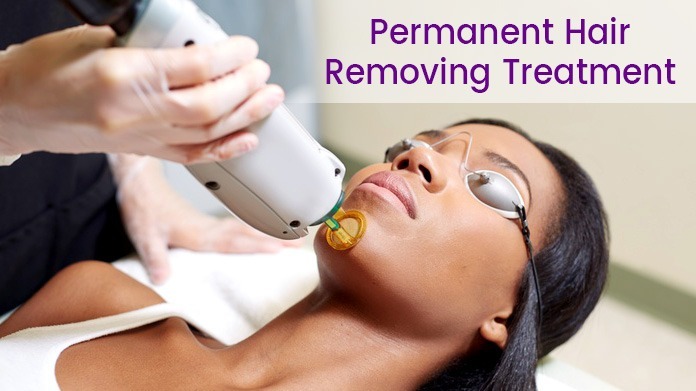 Clean, good 'looks' are definitively not everything, but they are a lot. They are the mode of our individualistic recognition, the epitome of our confidence and lifestyle. No-one, be it a male or a female, is a fan of unwanted hair on any body part other than the head. It seems like a grave put-off on an otherwise luscious seeming skin. The good part is that the unwanted hair can be permanently removed by Laser treatments. We at Look Young clinic have experienced dermatologists who themselves perform these procedures on each of our clients with utmost care and precision.
Yes, tweezing, waxing or shavings have been our go-to hair-removal options since ages.
But, tweezing and shaving just cut hair from the top, leading to faster, darker and coarser after-growths. Waxing is a very painful process and requires redoing after a certain period of time. Moreover, the unsightly 'ingrowths' and 'loosening of skin' issues may crop up over a period of time. If you love your skin and hate that unwanted hair, laser treatment is the best hair removing treatment for you. We have an experienced team of surgeons, well versed in practising hair removal on face, underarms, ear, neck, backs, legs, arms, bikini areas, etc. Apart from lasers, we also provide the best botox treatment cost in Delhi. The laser treatment in itself is one of the most commonly done skin procedures in the world, not only for women but males as well.
Our skin consists of minute hair follicles beneath the outer layer. Laser treatment includes targeting highly concentrated laser lights on these follicles directly. The pigment in these follicles tends to absorb the rays and damage the roots that grow hair. As a result, the hair tends to fall out and not re-grow. As a pre-requisite, the process requires complete hair-growth without waxing or plucking for at least a period of 6 weeks as these hair-removing practices also tend to remove the roots of the hair. Shaving does not affect this procedure as the lasers target the root follicles and not the hair. On an average, 3 to 7 sessions are required by these procedures to be completely effective. Though painless and side-effect free in nature, laser hair removal is a complete medical procedure at the end of the day. Thus, at Look young clinic, the best Non-Surgical skin treatment clinic in Delhi, with only the experienced dermatologists perform these procedures with the help of latest technologies available. We ensure that these treatments are undertaken in the best possible manner with the utmost precautions taken beforehand. Our specialists shall also guide you precisely regarding what to do and what not to do on a session-by-session basis. Unwanted hair removal can change your life. Laser treatments shall help you save on monthly salon time and money as well as boost your confidence that eventually comes with good looks. Don't be hairy anymore.
Be skin-confident with help of experts at Look Young Clinic.
Published on
March 26, 2018
By
Look Young Clinic


Categories: