Acne – one of the most disturbing parts of skin problems that almost every woman faces at some point in their life. Some find it easy to handle and get some early solutions with homemade remedies. On the other hand, there are women who have more serious issues that cannot be solved with homemade pastes and therapies; they need stronger solutions for the same. Sometimes, it is the scars of acne that becomes even bigger as a problem than the acne itself. Here at our clinic, you can get that solution. You have the best Acne Scar Treatment from our experts who have skill, expertise, and dedication for this job.
Why You Need This Treatment
Scars – no matter what type of it is are ugly on any face. You should not pamper the scars on your face and let them ruin your beauty at any cost. Acne is a kind of skin condition where the skin has red pimples. They mainly appear on the skin of your face during your adolescence. However, you can have acne later; after crossing your adolescence too. Even if you get rid of acne after sometimes, but removing the scars is almost impossible. These scars can be the worst thing on your face, and you like to hide them from everyone.
This is where you need advanced acne spot treatment. The treatment will help you to get rid of those spots after few sessions. You can get back your spot free, radiant look after the treatment.
Why Should You Come To Us?
This is true that there are lots of clinics where you can go to remove acne scars, but not all of them can offer you a reliable service as we do. We have some specialties in this matter that makes us better than our competitors.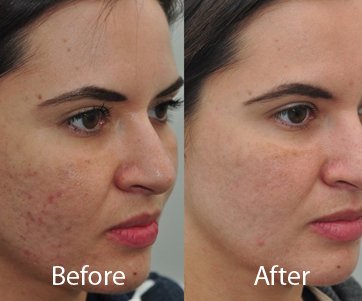 We use the most advanced devices and technologies to perform the treatment.
We make our clients go through some clinical examinations to understand their skin and health conditions before we start their treatment.
Our experts in this field have compact knowledge about PRP or Platelet Rich Plasma treatment. This is a new technique in which your own blood is used to rectify the issue of acne scars.
Our PRP injections along with SELPHYL create a gel-like substance out of your blood, rich in growth factors. It's then injected into the face scarred by the acne.
Stimulating the Collagen and Elastin growth, our PRP treatment for acne scars is completely safe and naturally heals the skin.
It takes about 3 weeks for PRP treatment to show complete results.
The treatment is a permanent solution for acne spots that can reduce the charm and natural beauty of your face.
Laser Treatment And Its Effect
Laser treatment is the process of removing facial scars without any surgeries. It is a non-evasive kind of treatment that gives you permanent solutions from acne spots on your face. The benefit of this process is it helps you to get rid of not only acne scars but the sun damage spots as well. That means you can get a complete solution for all kinds of facial spots from this treatment.
If you need this solution right now, then call us. Our experts will be glad to solve your problem by offering you a careful and complete treatment for acne scars.